The Siege Of Crowland Abbey
September 14, 2019

-

September 15, 2019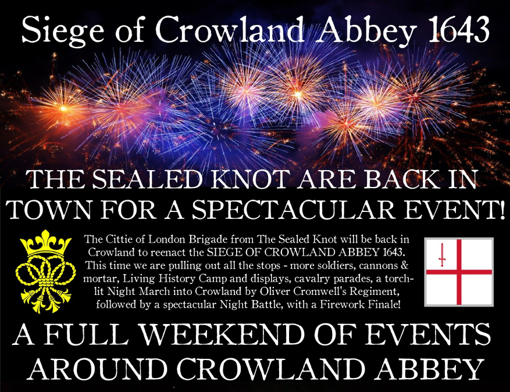 The Siege of Crowland Abbey
Crowland Abbey, 46 East St, Crowland, Peterborough. PE6 0EN
The Cittie of London Brigade and friends from The Sealed Knot will be back in Crowland Abbey to re-enact the SIEGE OF CROWLAND ABBEY in 1643 – a unique example of how local the Civil Wars were and this one is full of twists! Check out this video from last time – https://www.youtube.com/watch?v=M_9NxVmGwPg
A FULL WEEKEND OF EVENTS AROUND CROWLAND ABBEY
This time we are pulling out all the stops – more soldiers, cannons & mortar, Living History Camp and displays, cavalry parades, a torch-lit Night March into Crowland by Oliver Cromwell' s Regiment, followed by a spectacular Night Battle, with a Firework Finale!
SATURDAY: EVENT start at Trinity Bridge at 11.15am, marching around to Crowland Abbey for Living History Camps Displays and Skirmishing throughout the day. 7.15pm TORCH-LIT PARADE – Cromwell Marches into Crowland with Cavalry, Artillery, Musketeers and Pikemen. 7.40pm NIGHT BATTLE concluded with FIREWORKS.
SATURDAY NIGHT IN THE BEER TENT – Ticket Event from 8.30pm The Fabulous HOUNDOGS.
BUY WRISTBANDS FROM CROWLAND ABBEY
SUNDAY: 11.00 am Holy Communion in Crowland Abbey; EVENTS start at Trinity Bridge at 12.15pm, marching to Crowland Abbey for Living History Camps , Displays & Skirmishing . EVENT CLOSES AT 4.30pm.
£5 to purchase your Reenactment Weekend Wristband [16 years and over]
£10 to purchase your Saturday night HOUNDOGS Wristband.
Members of the Sealed Knot: This is a booked event only hosted by Cittie of London Brigade.