Wentworth Woodhouse
May 5, 2019

-

May 6, 2019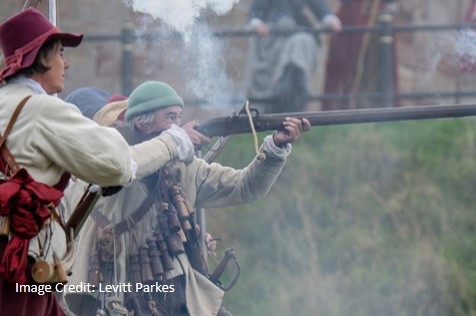 Wentworth Woodhouse is a Grade I listed stately home in South Yorkshire, with the longest façade of any country house in England. It stands in 87 acres of gardens and grounds and has extensive views over former parkland, including a deer park and lakes, which are vested in the Fitzwilliam Wentworth Amenity Trust.
Historically it is significant for a number of reasons; however, important to the Sealed Knot as it was the home of Charles I's advisor and friend Thomas Wentworth, 1st Earl Of Strafford, whose execution at the behest of Parliament was a major factor in the build up to the outbreak of the Civil Wars. It was in the House's Yellow Bedroom that Thomas learnt of his fate. He was executed on Tower Hill in London in May 1641.
Take a more hands-on approach to history by seeing us in costume, asking questions and handle some of our weapons and equipment. Learn about cookery, clothes, education and seventeenth century politics alongside strategies and tactics.
Sunday 5 & Monday 6 May
10am-3pm (House open until 4pm)
Go to https://wentworthwoodhouse.org.uk and link through to the Events page for tickets
Address – Wentworth Woodhouse, Wentworth, Rotherham, S62 7TQ
Go to https://www.newcastlesfoote.co.uk/ to find out more about the Sealed Knot Regiment hosting this event