Holdenby House
July 2, 2016

-

July 3, 2016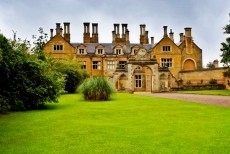 Once again the forces of Parliament meet the King's forces in the historic grounds of Holdenby House in the rolling Northamptonshire countryside.
It is 1647 and King Charles I is being held prisoner in Holdenby and an attempt to rescue him is made by the Royalist forces – let battle commence!
Close to Northampton, Daventry, Wellingborough, Kettering, and Rugby, this is an ideal day out for the whole family!
The event takes place on both days from 10:30am to 4pm. The house will be open from 11am – 3pm.
The full schedule:
10.30am – Watch Brigade Drill from the south lawn or the King play chess by the Ornamenta Pond
11am – Join Hammond's Regiment for drill in the military camp or watch the King's entourage play bowls on the lawn
11.15am – Come and join in the maypole dancing in the village camp
11.20am – 12pm The King receives a letter from the Queen, but a spy is caught and punished!
12pm – Watch a 'Court Leet' in Holdenby House's Pytchley Room
12.15pm – Join Hammond's Regiment for drill in the military camp
1.50pm – The alarm is raised!
1.10pm – Pre-battle fire fight
2.30pm – The armies deploy and battle is joined!
4.15pm – Thanksgiving sermon near the church as the wounded are treated.
Admission prices: Adult ticket: £8 Battle only, £10 House and Battle
Child ticket: £6 Battle only, £8 House and Battle
Family ticket: £22 Battle only, £25 House and Battle
For details and direction on the Holdenby House website, click here.